This page is dedicated to quick news bulletins on what is happening in and around CGP.  We update when cool news is available to talk about!
19/10/2012 – CGP @ GameCity
Running from October 20th-27th, GameCity 7 is currently being held in the neighbouring city of Nottingham.  GameCity is an annual event showcasing a range of games and talent across the sector; with AAA titles such as Crysis 3 on display this year to a flurry of titles being produced by indie studios.
Two of our own students are showcasing their work this year at the Market Square.  With Sam Albon and his company 2Person Games displaying their game Space Salvager all day this weekend (20th and 21st) followed by 7-11pm on the 23rd and 10am-1pm on the 26th.
Meanwhile fellow final year CGP student Andrew Roper, hot from showcasing his work at the EuroGamer Expo in London, is showing off his new title Lazarus which he is working on with SpiltMilk Studios.  Andrew is showing his work every day except on Tuesday (23rd) and Thursday (25th) – to his knowledge! 😉
Meanwhile, Andrew is also working a play-and-party event for Lazarus, with some details from the man himself:
"We're having a live lazarus play-and-party at Antenna on the friday night (26th). Competition, a rather funky cool prize, cake, alcohol, and people 😀 "
You can find out more about the Lazarus party here: http://gamecity2012.sched.org/event/816f274ccec16e8565c68001b1fdb55a?iframe=no#.UIZqx8Uxqqh
Full details on the event are available at the GameCity website: http://festival.gamecity.org/
Best of luck to both of you guys.  Hope it's a big success.
8/10/2012 – CGP @ JournoDevoSwap
This weekend saw host to the JournoDevSwap at the London Games Festival.  The idea behind the event, hosted by the UKIE is pretty straightforward: game developers and journalists swap their hats and take on each others respective roles .   The team of aspiring journalists came from a range of areas in the game industry:  Andrew Smith of Spilt Milk Studios, Mark Backler from Lionhead, Peter Theophilus-Bevis from Blitz and Jim Griffiths from Mediatonic's.
However the team of newly minted developers, ranging from Keith Stuart from the Guardian and Dan Griliopoulos from IGN were not left in the deep end unattended.  Each developer had access to a group of students to provide expertise, answer questions and generally to keep them from going crazy.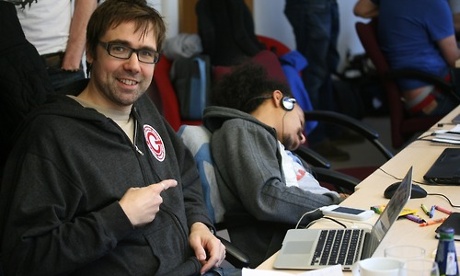 Amazingly, all of the students taking part either as artist or programmer studied in Derby's own CGP and CGMA; Chris Barnes, Karn Bianco, Kevin Chandler, Theo Chin,  Dave Jones, Luc Shelton, and Jake Woodruff.
With the dust settled, the sleep-deprivation at a high and the games submitted, the only thing left was to decide the winner.  Theo and Keith Stuart's title Double Droids reviewed by Andrew Smith won the game jam.  Congrats to both!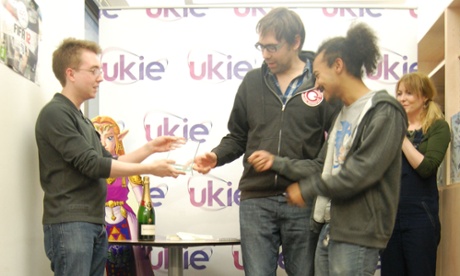 With the event closed, UKIE CEO Jo Twist had some nice things to say for all parties involved!
"The Derby Students have done a brilliant job, the developers have had their eyes opened to different kinds of deadlines and the journalists have been able to get their hands dirty and have seen how hard is actually is."
A big congratulations to all the guys who participated.  Looks like it was a great experience for all.
You can see the submitted games currently on IndieSkies where you can get started playing provided you have the Unity web player installed.  Also check out the full set of stores on the event over on Develop and Keith's great live feed over at the Guardian.